Experience Unmatched Surveillance Power with HIKVISION DS-96256NI-I24/H 256-ch 4U 4K Super NVR
Experience Unmatched Surveillance Power with HIKVISION DS-96256NI-I24/H 256-ch 4U 4K Super NVR.In the fast-paced world of security and surveillance, staying ahead is paramount. HIKVISION, a global leader in cutting-edge security solutions, introduces the groundbreaking DS-96256NI-I24/H 256-ch 4U 4K Super NVR, setting new standards in video surveillance technology. With its advanced features and seamless integration, this NVR empowers organizations with unparalleled surveillance capabilities.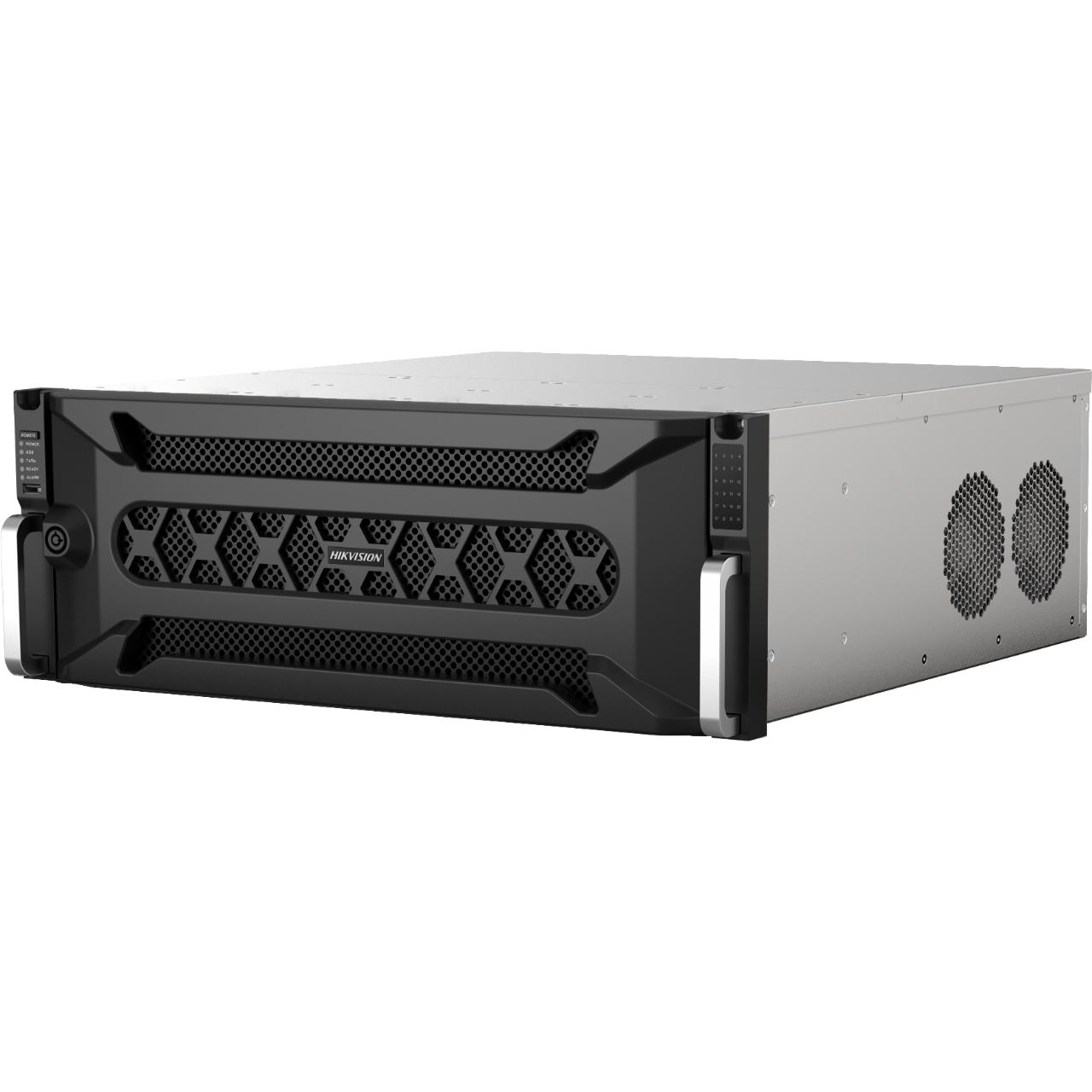 Unleash the Potential of Comprehensive Connectivity
The HIKVISION DS-96256NI-I24/H NVR sets new benchmarks by supporting up to 256 IP cameras, ensuring extensive coverage and providing a panoramic view of your surveillance landscape. With a high incoming bandwidth of 768 Mbps, this NVR guarantees seamless connectivity, allowing for simultaneous monitoring of multiple camera feeds. No detail will go unnoticed, ensuring comprehensive surveillance coverage across your entire premises.
Exceptional Video Outputs for Enhanced Monitoring
Elevate your surveillance experience with the DS-96256NI-I24/H NVR's two HDMI interfaces (different source), one VGA interface, and one decoding board. These interfaces support impressive video resolutions, including 4K imagery. Immerse yourself in crystal-clear visuals, enabling you to analyze footage with remarkable precision and make informed decisions based on accurate visual information.
Specialized Cameras for Tailored Surveillance Solutions
The DS-96256NI-I24/H NVR seamlessly integrates with specialized cameras, including people counting cameras, ANPR (automatic number plate recognition) cameras, and fisheye cameras. These advanced cameras provide specialized functionalities to meet specific surveillance requirements, ensuring tailored solutions for every scenario. Leveraging HIKVISION's NVR technology in partnership with HIKD, you gain access to a wide array of surveillance solutions tailored to your unique needs.
Uninterrupted Monitoring, Regardless of Network Conditions
Unpredictable network conditions should never hinder your surveillance operations. The DS-96256NI-I24/H NVR employs advanced streaming technology, ensuring smooth live view even in poor network conditions. Stay connected and maintain uninterrupted surveillance coverage, irrespective of external factors that may arise.
Reliable Data Storage and Enhanced Stability
Data storage and system stability are critical aspects of any surveillance infrastructure. The DS-96256NI-I24/H NVR supports RAID 0, 1, 5, 6, 10, and N+1 hot spare configurations, safeguarding your valuable footage and ensuring uninterrupted operations. With the capability to accommodate up to 24 HDDs for continuous video recording, rest assured that your data is secure and accessible when you need it most. The redundant power supply further enhances system stability, providing peace of mind.
HIKD: An Integral Partner in HIKVISION Solutions
HIKD's collaboration with HIKVISION as a trusted distributor is instrumental in delivering cutting-edge security solutions. With a shared commitment to innovation, quality, and customer satisfaction, HIKD plays a pivotal role in bringing HIKVISION's advanced technology to businesses worldwide. Partnering with HIKD grants you access to a comprehensive range of HIKVISION solutions tailored to your unique requirements, supported by dedicated customer service.
Embrace the Future of Surveillance Technology
The DS-96256NI-I24/H 256-ch 4U 4K Super NVR represents a significant leap in surveillance capabilities. Its exceptional connectivity, high-performance video outputs, compatibility with specialized cameras, reliable data storage options, and partnership with HIKD make it the ideal choice for organizations seeking top-tier security solutions.
Experience the power of HIKVISION's DS-96256NI-I24/H NVR and elevate your surveillance operations to new heights. For more information and to explore the extensive range of HIKVISION solutions, visit HIKD's website at [insert website link] or contact their sales team at sales@hikdistribution.com. Trust in HIKD's collaboration with HIKVISION to deliver advanced technology and unparalleled support, ensuring your surveillance infrastructure remains at the forefront of security innovation.
About Author